Thanks for joining
the movement!
Your submission has been received.
News & Articles
Turf Grass Removal: Sheet Mulch it Out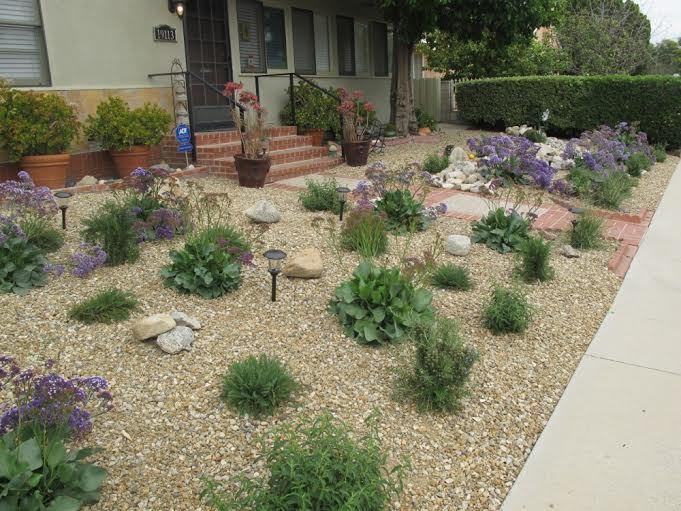 Last week we talked about removing turf grass by physically cutting it out. That method was quick but didn't work for all grass types. This week we'll talk about a different approach that is cheaper and easier, but much slower.
Step One. Identify your target turf grass to remove.
You'll want a good idea of what you are getting yourself into before you begin and that means knowing what grass you want to remove. This method covers up the grass for months to let it naturally decompose. If you are planning to remove your entire front yard, you might want to have a brief conversation with your gneighbors. This method also does not work well on steep slopes because the mulch will tend to slide off over time. Manage aggressive weed species, such as bindweed, before sheet mulching as some weed species have extensive enough root systems to survive the sheet mulching process.
Step Two. Cut the grass as short as possible.
Now trim the grass as short as possible by setting your lawn mower on the lowest setting. Congratulate yourself for completing another step—this one is short.
Step Three. Soak the area.
Soak the area thoroughly. Sheet mulching gets rid of turf grass by decomposition through composting. Making sure the soil is moisturized facilitates the activation of the organisms that make it happen.
Step Four. Cover the target turf (and soak again).
Cover the entire area with a solid material so no light can get through. Cardboard, newspaper (10-12 overlapping layers), or multiple layers of burlap will all do the trick. Give the covering another good soak to make sure that there is moisture on both sides of the cover.
Finally, top it all off with at least four inches of mulch. If you want, you can top it off with compost first and then add a thinner layer of mulch on top of that. This route lets you begin planting in the compost/mulch immediately while the turf grass decays below. Either way, the mulch holds everything down from the wind, begins the composting process, fights weeds, blocks light, and… most importantly… makes it look nice.
You can cut holes through the covering and add plants into the ground or wait until the covering and turf decompose. The turf grass will take months to decompose but the entire process will go more quickly if the weather is warm. As spring turns into summer (hey, that's now!) is a great time to start this process.
And that's all it takes! As always, if you're inspired, send me a gnote and let me know how it goes! I'm always happy to hear from my gneighbors and can even help fill out rebates to make sure you get the best bang for your buck!
Recommended for You
Enter our photo contest to win your dream garden!
This is when you should mow your grass and how to set your mower.
Fix a Broken Sprinkler. Here's the easy way.
Get some help for removing your turf. Claim your rebate.
Share your comments with us
2 Comments
Bobbie Flora Says:

I like this method as you can plan your garden and plant it right away. We had neighbors who had black plastic on their lawn for two years! This method seems much more neighbor friendly and appealing to the residence.

Gnorman Says:

Hi Bobbie,

I agree. We tried to recommend simple solutions that improved gneighborhoods immediately!

The black plastic method is called "solarization." It uses the heat from the sun to increase the temperature of the surface soil to as high as 140-degrees. This kills off most of the weeds and pests in the soil. Typically it is only done for 4-6 weeks.

P.S. What an apt last name!